Back by popular demand; FJORD FOCUS hand-painted sweatshirts. Also available as t-shirt.
Sweatshirts in white only. $20 s,m,l,xl $23 2xl
T-shirts available in choice of color (red, blue, black, green; special order torquoise, pink, yellow). $17 s,m,l,xl $19 2xl).
Colors other than white are subject to availability.
Hand Painted Sweatshirt - 'Fjord Focus'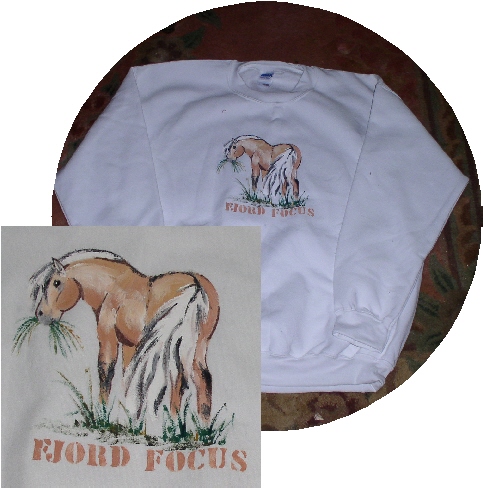 sizes s,m,l,xl $20; 2xl $23 also available in tshirt
The photos below are of Kilar, our wonderful Norwegian Fjord Horse gelding, taken with a couple of his fans, Maria and Vickie Rice. The last photo is Wee Willy, not to be out-petted, getting his share of the love.